Grower Benefits
Yuktix is creating an agriculture stack for delivering data driven farm productivity. Growers use our advisories to plan irrigation, soil & nutrition management, disease and pest management and crop expertise to get better yields at lower costs.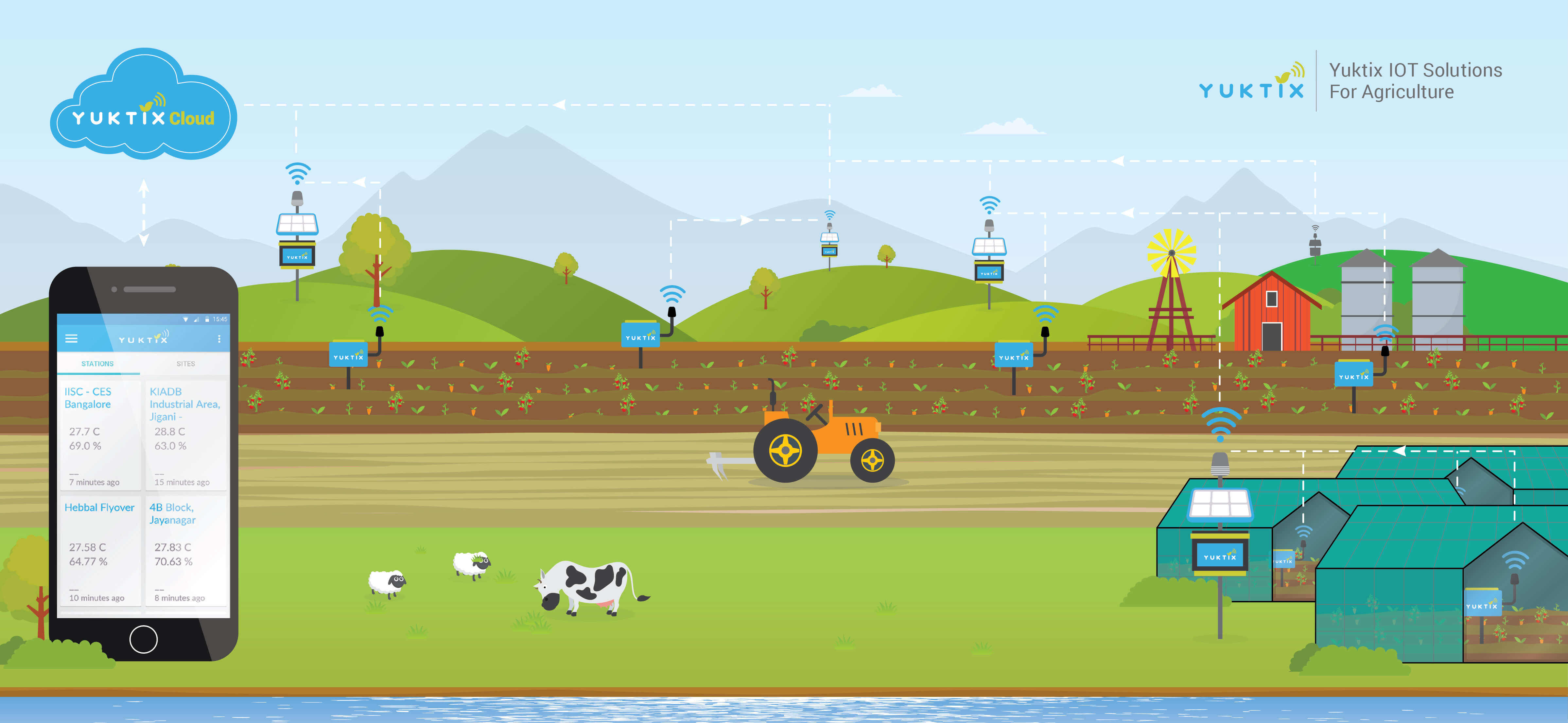 Irrigation Management
Receive AET and crop based daily water recommendations that factors in your irrigation parameters, stage and farm conditions.
Fertilizer Management
40% reduction in Fertilizer usage. Soil Fertilizer advisory based upon Soil testing.
Soil Management
Fertigation advisory post leaching. Soil nutrition advisory based upon Soil testing.
Disease And Insect Forecast
20-25% reduction in loss due to insect and disease. Disease and Insect Forecast using Micro-Weather Data captured using devices deployed in the farm
Expert Advice
Making Agriculture research institute research available to the Growers. Access to Agriculture Expert. Weather Forecast, General Advisory
Spray Schedule
With advance AI and ML based disease prediction algorithms and image analysis, spray only when required.
Package of practices
GidaBits Deliver Package of Practice and track the activities done by field staff / growers
Rain forecasts
Rain forecasts are factored in for daily water recommendations. Receive rain forecast alerts on the go.
Alerts
Receive alerts when soil moisture crosses field capacity or wilting point so irrigation can be started or stopped at the right times.
Organization Benefits
Reports
Generate daily, weekly, and monthly reports with useful insights and actionable data.
Low Capex
We provide rugged field-tested weather stations at a fraction of the price from competition.
Vernacular support
Allow growers to interact with native language.
Grower Productivity
Yuktix GidaBits is a system to deliver data driven productivity gains for farms. Growers and organization can use our platform to get personalized daily crop management and crop protection advisories.
Go Automatic
Get rid of tedious manual reporting processes. Download all the required data with one click of a button.
Field scouting data
The organizations can plug any existing infrastructure as part of GidaBits data processing pipeline.